CURRENT 2016 PROMOTIONS
PLATINUM PROGRAM - One full year of unlimited boot camp (10 camps) paid in full at 50% Discount (for details, go to Memberships under "Program" on home page). Limited to 5 Spots! Goes on Sale on Black Friday 11.27.15

Gold Program - One full year of unlimited boot camp (10 camps) paid in full at a 40% Discount with all the ammenities of the PLATINUM PROGRAM (for details, go to Program on home page, dropdown Memberships). Limited to 5 Spots! Goes on Sale on Black Friday 11.27.15

Silver Program - 6 months of unlimited boot camp (5 camps) paid in full at a 35% Discount (for details, go to Program on home page, dropdown Memberships). Limited to 5 Spots! Goes on sale on Black Friday 11.27.15


3 CAMP COMBO DEAL

Covers 3 four-week boot camps in 2016.
This program is a combo deal that offers a 20% discount if paid up front, and 15% if paid in 4 equal monthly payments (must be set up as automatic credit/debit card withdrawals). The table below shows the prices for this deal (prices are rounded up). No other discounts apply (for details, go to Program on home page, dropdown Memberships). Unlimited number of participants.

3 Individual Camps
Regular Price

3 Camp Combo
(Pay Up Front)

3 Camp Combo
(4 Payments)

5 Days a Week

$897

$717

$762 (4 x $190)

4 Days a Week

$747

$598

$635 (4 x $159)

3 Days a Week

$597

$478

$507 (4 x $127)
EARLY PAYMENT DEAL
$20 Savings when you pay at least 7 days prior to camp start date and time.
This is our Early Bird Special for participants who are purchasing one regularly priced 4 week boot camp. Automatically save $20 off your camp when you pay at least 7 days prior to camp start date and time.

1 Individual Camp
Regular Price

$20 Early Payment Deal
(Pay 1 wk b4 start date)

Cost of Camp with Savings


5 Days a Week

$299

$-20

$279=$13.95/day

4 Days a Week

$249

$-20

$229=$14.31/day


3 Days a Week

$199

$-20

$179=$14.91/day
YOU GET:
One uniquely different Boot Camp cotton T-shirt each 4 week camp
Unlimited Fitness Assessments
Unlimited e-mail communication to answer fitness, nutrition and lifestyle questions
Ongoing food log analysis.....yes, keep a food log people!
AND the usual boot camp benefits: daily invigorating and result producing workouts, and commemorative boot camp dog tag
This Program has no limit to the number of participants
---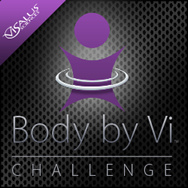 Ready for a NEW You???
Join the 90-day challenge!
Lose weight, feel great, save money!
Over $25,000,000 in total prizes awarded!

The 90-day Body by Vi Challenge is based on nutrition that helps burn fat, boost metabolism and control hunger. With five unique Challenge Kits to choose from, each with specific benefits to meet your goals, achieving success is as simple as choosing a kit. Plus, if you help three people join the Challenge with you on a kit of equal or greater value to your own, you will get your kit free the following month.
FREE challenge kit!


What could be better than losing weight or getting fit for free? Oh, and did I mention $25 million dollars in total prizes, make-overs, and vacations are awarded every year for the top female, top male, top couple, and top family -- plus, a lottery winner? (Prizes awarded 4 times/year, every 90 days)
So, are you up for the challenge?
The only thing you have to lose...
is WEIGHT!
Want more information? See http://adventurein90.myvi.net/ for challenge and product information.
---
CORPORATE DISCOUNT PROGRAM

This program is designed to offer a discounted price to employees of Corporations or Businesses, and their friends and family. The program is conveniently located on site of the Corporation or Business. Must have a minimum of 12 participants to receive Corporate Discount. T-Shirts are not included in this program, but a motivating and sweat inducing workout is guaranteed! No other discounts apply to this program (Referral Rewards Discount, Early Registration and Payment Discount).
Regular 3 Day/week Program= $199
Corporate Discount 3 Day/week Program= $119 ($80 savings!)
Regular 4 Day/week Program= $249
Corporate Discount 4 Day/week Program= $149 ($100 savings!)
---
Save $50 with our YELP Ad http://www.yelp.com/biz/wine-country-adventure-boot-camp-santa-rosa-2