MEET OUR FITNESS TEAM
Amie Breeze - Director/Owner and Lead Instructor
Amie Breeze is a NESTA Certified Adventure Boot Camp Instructor as well as an AFAA Certified Personal Fitness Trainer and an AFAA Certified Group Exercise Instructor. She has instructed a multitude of fitness classes for 10 years to men, women, and children. Her teaching experience includes: Circuit Sculpt, Resistance Training, Step Aerobics, Spin, Home School P.E., and Boot Camp. Her love for exercise and fitness began when she was a child growing up near Yosemite. It was back then that she trained her very first client (her childhood best friend) for the annual El Portal run. Her passion for exercise, nutrition, health and well being has been an integral part of her life for as long as she can remember. One of the most rewarding aspects of her career is witnessing the positive life changes exercise makes in people's lives. Amie is known for her creative, fun, and motivating workouts that incorporate both old school techniques and those that are on the cutting edge of the fitness industry. Her participation in continuous educational training courses allows her to stay current and on top of her game.

Amie holds an AS degree in Language Arts and an AS degree in Fire Science, both from Butte Community College. She is a State Fire Marshall Certified Fire Fighter I and has held EMT Basic certification, although not currently certified. After working as a fire fighter and EMT for California Dept. of Forestry and Fire Protection for nearly 6 years, Amie became a stay-at-home mom and part-time fitness instructor to stay fit and active. While working as a fire fighter and EMT, Amie learned the importance of proper body mechanics to lift, push, pull and squat heavy tools, machinery and other people's body weight. She incorporates functional movement in her workouts to help you stay strong and safe no matter what challenges your career and your life bring you!
Amie is a 25 year resident of Sonoma County and served 8 years on the Rohnert Park City Council, including serving as Mayor of Rohnert Park in 2008-2009. When she isn't busy directing and teaching boot camp, she balances her time between her family, friends, dog and running buddy Max, community, and sharing her passion for health, fitness and well being.
Amie holds Certifications in:
NESTA Certified Adventure Boot Camp
AFAA Certified Personal Trainer
AFAA Certified Group Exercise Instructor
AFAA Certified Resistance Training
Reebok Spin Certification
State Fire Marshall Certified Fire Fighter I
---
Carla - Support Staff
Carla is a NESTA Certified Adventure Boot Camp Instructor as well as a Certified Group Fitness Instructor and will do Personal Training on request. She has been instructing choreographed group fitness classes for 12 years to mainly women of all ages and fitness levels. An exercise enthusiast since her teens she loves the feeling a great workout will give. She is passionate about fitness, health and well being. Carla is always seeking the opportunity to take additional training courses anytime her schedule allows. Most recently Cross Fit as well as her introduction to Kettle Bell training in 2006. Continuing education is one thing that keeps her mind fresh and enthusiastic. She is in the process of obtaining her NESTA (National Exercise &Sports Trainers Association) Master Personal Trainer Certification.

Carla holds an AS degree from Santa Rosa Junior College and received her Bachelors degree in Nursing from Dominican University of California in 1996. She holds a Minor in Psychology. After working 11 years as a Registered Nurse in the Emergency Department, Carla has seen her share of sports related and back injuries:being acute or chronic. Carla can show you how to prevent and strengthen your back by conditioning core muscles using body weight, tubes and hand weights developing a stronger and happier you!
Carla continues working Part Time as an Emergency Registered Nurse at local rural hospital, Palm Drive: west county's only and best hospital.
Carla holds Certifications in:
ACLS (Advanced Cardiac Life Support)
PALS (Pediatric Advanced Life Support)
BLS (Basic Life Support)/AED/CPR
NESTA Certifications
IKFF Level 1 Kettlebell Trainer
Carla's mission is to encourage women of all ages to say "YES I Can!" She is driven to educate women about cardiovascular disease and the ways to prevention through nutrition, exercise and laughter!
---
Dr. John Spencer Ellis - Support Staff
Each week, over one million people around the world enjoy a fitness program created by John Spencer Ellis. His fitness programs are implemented in the top resorts, spas and health clubs. John is the President of NESTA (National Exercise & Sports Trainers Association) and the Spencer Institute for Life Coaching. These two professional associations have 45,000 members in 30 countries. John is on the Advisory Boards of the National Health, Wellness and Prevention Congress, Exercise TV, Conference for Healthy Living, Irvine Valley College, Get America Fit Foundation, and is a Fellow of the National Board of Fitness Examiners. He is the author of "How Badly Do You Want It? - Your Ultimate Guide to Optimal Fitness," and a contributor to "Power of Champions." He created Adventure Boot Camp, the largest fitness boot camp program in the world. His signature series of outdoor fitness equipment is used in communities worldwide. John has been featured or quoted in every major fitness publication, and held the post of Fitness Editor for OC Flair magazine. John has been featured on NBC, CBS, PBS, SPIKE, ESPN & Bravo. He serves as an on-air expert for Life & Leisure Television and Health Journal Television with General Norman Schwarzkopf. He is the producer and host of The OC Body on The Healthy Living Channel. John is a Nautilus sponsored athlete and stars in the workout DVDs Playground Boot Camp™ & Kung-Fu Fitness™. John created the fitness program used by the U.S. Secret Service and he consults the UFC (Ultimate Fighting Championships).
John has been continuing his professional education since 1987, and holds bachelors degrees in business and health science, an MBA, and a doctorate in education. He is currently completing a second doctorate in naturopathy. He has fifteen certifications including massage therapy, plyometrics, self-defense, fitness kick boxing, fitness boxing, water fitness, exercise rehabilitation, golf conditioning, Pilates, personal training, clinical hypnotherapy, sports hypnosis, PACE circuit training and yoga. He holds a 2nd degree black belt in kung-fu, has completed the Ironman triathlon, and finished 5th at the U.S. National Biathlon Championships. His medical training includes a license in radiological technology, a medical assisting certification, and training in McKenzie rehabilitation. John was nominated for the California Community College Distinguished Alumni Award.
---
Kelli Calabrese - Support Staff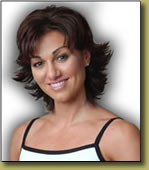 Kelli Calabrese, MS, CSCS is the International Master Trainer for Adventure Boot Camp and does the Coach Training to prepare qualified candidates to become Adventure Boot Camp Coaches. Calabrese has been a spokesperson, consultant, advisor or expert for clients such as The American Council on Exercise, NESTA (National Exercise & Sports Training Association), the National Board of Fitness Examiners, Athletic Baby, The Aerobic & Fitness Association of America, National Board of Fitness Examiners, Smuckers, Kellogg, Glaxo Smith Klein, The Watermelon Council and Quaker Oats.

At the age of 22 Kelli had completed 3 Science degrees including an Associates in Biology, Bachelors with High Honors in Exercise Physiology and a Masters in Clinical Exercise Physiology and Cardiac Rehabilitation. Since 1986, Kelli has acquired 23 fitness, nutrition, weight management and lifestyle consulting certifications. For 14 years she co-owned and operated a chain of 4 fitness centers (Excellence in Exercise) and 4 corporate centers with clients such as Calvin Klein Cosmetics, Nabisco and Beneficial Insurance. In 1991 Calabrese opened Xercise Institute, the first school for preparing candidates for the American Council on Exercise's Personal Training exams.

Kelli's personal mission is to empower individuals with the tools to make health, fitness and wellness a permanent and enjoyable part of their lives. She does this through teaching and coaching both consumers and fitness professionals to be their personal best.